October 15th: a wave of light all around the world against perinatal death
October is Pregnancy and Infant Loss Awareness Month. During this month many organizations throughout the world celebrate events on stillbirth, miscarriage, neonatal death and SIDS.
Among them, the Wave of Light is a creative concept developed by english and american organizations, based on progressive candle lightings all around the world at 7pm on October 15th. If every participant in different countries lights a candle (or many candles….) at 7 pm local time, keeping the candles lit for at least a hour, aWave of Light will rise and propagate around the world for the whole day.
If you wish to participate, light a candle at 7pm your local time and keep it lit for at least an hour. Take a moment to remember and reflect as the wave of light progresses around the world.
On October 15th, be part of a Global Wave of Light with us.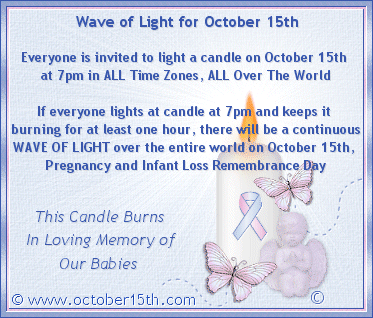 comments